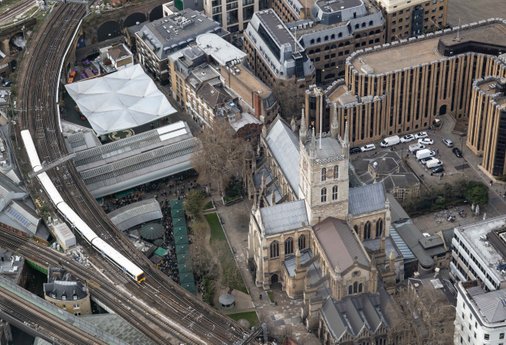 The Railway Remembers:- November the 6th 2019

Each year in November, at railway stations up and down the network, remembrance services are held to remember the sacrifice of the rail industry during times of conflict. The importance to the war effort, during both the first and second world wars, of the railway cannot be understated, from rapid transport of men and materials to the frontline, to the transportation of the wounded; the railway was arguably the single greatest asset the allied forces had.
One hundred years after the end of World War One, the nation held commemorative services culminating on Remembrance Sunday at The Cenotaph in London. But for the railway industry, this November is especially poignant, as we hold the last great centenary act of remembrance at Southwark Cathedral, next to London Bridge Station, on November the 6th 2019.
Over 186,475 railway workers from Britain and Ireland fought in World War One, on land, sea and in the air, and more than 18,957 gave their lives. In 1919, in the presence of His Majesty King George V, over 7,000 railway people and families attended a service of remembrance in St Paul's Cathedral, "In memory of the railwaymen of Great Britain and Ireland who died in the service of their country during the war 1914-1918".
A century later, the railway industry of Britain and Ireland will come together again, to remember those that fell and to show that the railway industry can be a conduit for peace and reconciliation; a message that can be carried beyond our shores, by the railway as the only physical link between Great Britain, the rest of Europe and beyond. This is a link that predates the Channel Tunnel, back to when the railway operated the ferry services.
Nevertheless, November, is not about looking back at the past, but to the future and the part the railway will play in building links and partnerships beyond our shores; a future that was made possible by the sacrifice of those railway people who served and died in World War One and in subsequent military conflicts.
The railway remembrance services are held on various days to allow as many people as possible to attend a service somewhere on the network. Some are large well-attended services such as the ones in Glasgow or Euston, others are small intimate times of reflection attended by a handful of people, but all of them serve to remind us of the sacrifices made by the railway community.